CCP4 Structure Solution Workshop
Organizers: Eugene Krissinel, Charles Ballard (Collaborative Computational Project No. 4, CCP4, UK)
Date: 17th August 2019 (1 day)
Time: 9 a.m. – 4 p.m.
Room: 15 Seminarraum 121
Fee: 100 € (included: coffee during coffee breaks / lunch)
Lecturers
Eugene Krissinel  CCP4, Rutherford-Appleton Laboratory, UK
Charles Ballard CCP4, Rutherford-Appleton Laboratory, UK
Ronan Keegan CCP4, Rutherford-Appleton Laboratory, UK
Robert Nicholls MRC/LMB, Cambridge, UK
Sravya Kantamneni EMBL-Hamburg, Germany


Workshop outline
The Workshop will demonstrate the use of CCP4 Software Suite for solving macromolecular structures starting from X-ray diffraction images and target sequence. Two main approaches: Molecular Replacement and Experimental Phasing will be presented, for which two corresponding crystallographic projects will be gradually developed by tutors, each one building on the results obtained by the predecessor. The tutors will also make theoretical presentations relevant to their parts of structure solution process.
The Workshop will aim at highlighting novel features and components of the CCP4 Software Suite, and both automated and staged approaches to structure solution will be shown. In particular, the newly developed CCP4 Cloud (also presented as an invited talk at MS-11) will be used for developing crystallographic projects.


Prerequisites
Participants are encouraged to follow tutors' actions in order to get practical experience of operating CCP4 Software. Since the course will be conducted on-line with CCP4 Cloud, any laptop would work as a terminal device. For best experience, participants are expected to register with CCP4 Cloud at ccp4serv6.rc-harwell.ac.uk/jscofe/ and install CCP4 Cloud Client from link given at the bottom of the Cloud's login page before the workshop. Use of tablet devices is also possible apart from running Coot for interactive model building and some other components. CCP4 Cloud Client should not be installed on tablet devices.

Tentative program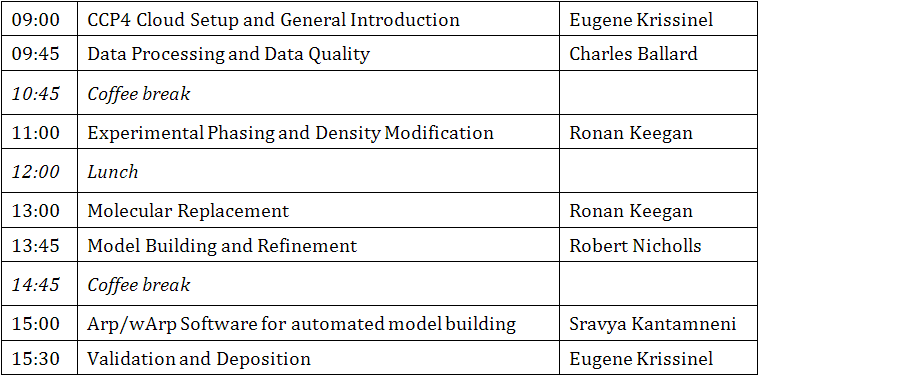 Note
Registration for satellites is already CLOSED!