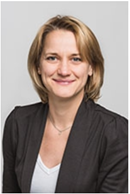 Thermo Fisher Scientific — How to Engage in Cryo-EM Single Particle Analysis

Speaker: Alevtyna Yakushevska, PhD (Thermo Fisher Scientific, The Netherlands)
Date: 18h August 2019
Time: 4 p.m. – 5 p.m.
Venue: University Vienna, Main Building, room: t.b.a.
Fee: free of charge (including meal/drinks sponsored by Thermo Fisher Scientific)

Please have a look for more information on Thermo Fisher Scientific: www.cryo-electronmicroscopy.com
Cryo-EM – Single Particle Analysis (SPA) in particular - has rapidly developed from a pioneering into a mainstream application that has caused a revolution in the field of structural biology at the atomic resolution. Significant resolution improvements on 3D protein structures and their interactive states have led to an increasing insight in protein machineries, sub-cellular interactions and mechanisms. This will eventually contribute to answer real biologically as well as medically relevant questions.The results that have recently been obtained and published have triggered a large group of new users – mostly originating from the field of X-ray crystallography and NMR – to adopt cryo-EM as a viable, complementary technology. Now, finally, a continuum has been reached on all important aspects with regards to resolution and macromolecular scales which allows for the full deployment of the combination of these technologies.
There are several ways to get into cryo-EM field. Firstly, is to set up collaboration and use the electron microscopy facility and expertise for both preparing cryo-EM sample and collecting the dataset for the final 3D reconstruction. Secondly, is to use the centralised cryo-EM facilities where the most proficient data collection will be provided. Thirdly, is to set up your own cryo-EM laboratory. Starting however a cryo-EM laboratory can seem daunting, especially with all the technical expertise and application knowledge that's required.
To help ensure your success, Thermo Fisher Scientific partners with you throughout the process providing the guidance on what is required to build the cryo-EM laboratory, providing training, and ongoing support you need to maximize your lab's productivity.


Note
Registration for satellites is already CLOSED!