IUCr's Committee on Data
Workshop "Data Science Skills in Publishing: for authors, editors and referees"
Organizers: John Helliwell (University of Manchester, UK)
Brian McMahon (IUCr, R&D Department, UK)
Date: 18th August 2019 (1 day)
Time: 8:25 a.m. to 5 p.m.
Room: 27 Seminarraum 387 CBEG02
Fee: 60 € (included: coffee during coffee breaks / lunch)

The trend of modern science research data being findable, accessible, interoperable and reusable ie FAIR is something that crystallographers have done for many decades with its excellent crystallographic databases always exploiting the digital hardware archiving available. FAIR is necessary but not sufficient, as physicists would say, since the archived data should also be true facts. So FACT and FAIR are needed for reproducibility. The crystallographic community has developed automatic checking software by pooling its experiences from hundreds of thousands of crystal structure analyses into validation procedures with numerous data file checks on both coordinates and processed diffraction data sets. Alarm alerts can then be scrutinised by journal editors and referees. With such exemplary procedures is there anything to be improved? Crystallographers conclude that there is. Firstly the IUCr journal Acta Crystallographica Section C for structural chemistry has always required submission of article with validation report with underpinning data files. Thus the specialist subject expertise of referees can involve their own direct calculations to supplement the automatic checks before article and data set acceptance as versions of record by the editor. This has inspired others to look to improve their own crystallographic disciplines and journals to follow the Acta Crystallographica C standard. Secondly the digital archives have enhanced their capacity in recent years owing to amazing hardware advances so that even the Gigabyte sized raw data sets can also be preserved as versions of record. A reader of a publication can thereby revisit even the earliest calculation decisions of the authors of a publication. As The Royal Society of London puts it: science is about not taking someone's word and so, instead, the science is always in the data. FACT and FAIR, indeed scientific objectivity itself, is possible. This Workshop will address the state of the art in the field and the data science skills hoped for, indeed to be expected, of all those involved in publishing crystallography results, and of results from all the cognate methods such as scattering, microscopy and spectroscopy.

Link to the workshop abstracts: www.iucr.org/resources/data/commdat/vienna-workshop

Sunday 18th August 2019 proposed programme:
Session 1 Chair: Annalisa Guerri
Morning: 08:25 - 12:00
08:25-08:30 John R Helliwell: "Introduction to the Workshop"
08:30-09:00 Tony Linden: "Data refereeing and editing in chemical crystallography; the Acta Cryst C experience"
09:00-09:30 Brian McMahon: "The vital role of Crystallographic Information Files in chemical and biological crystallography to underpin the databases' validation reports"
09:30-10:00 Ton Spek: "Platon and raw diffraction data opportunities for chemical crystallography publishing"

10:00-10:30 *** COFFEE ***
Session 2 Chair: Brian McMahon
10:30-11:00 Miguel Aranda: "The role of raw powder diffraction data in peer review; past, present and future"
11:00-11:30 Manfred Weiss: "Diffraction data deposition and publication"
11:30-12:00 Loes Kroon-Batenburg: "Raw data opportunities for biological crystallography publishing"
12:00-13:00 *** Lunch ***
Afternoon: 13:00 – 16:00
Session 3 Chair: Simon Coles
13:00-13:30 Suzanna Ward: "Correcting the public record of chemical crystallography science"
13:30-14:00 Mariusz Jaskolski: "Correcting the public record of biological crystallography science"
14:00-14:30 Petra Bombicz: "Overview of the role of data reviews and tutorial reviews in improving crystallographic science training"

14:30-14:45 *** Comfort break ***

Session 4 Chair: Brian McMahon
14:45-15:15 Simon Billinge: "Moving towards a more data-centric scientific literature"
15:15-15:45 Gillian Holmes: "IUCrData - update on data publication and practices at the IUCr"
15:45-16:00 John R Helliwell: "Overview of the new opportunities in and a harmonisation of peer review of "data with validation report with article narrative" practices"

16:00-16:30 *** General Discussion ***

16:30-17:00 === TEA ===
18:00 Opening Ceremony of ECM32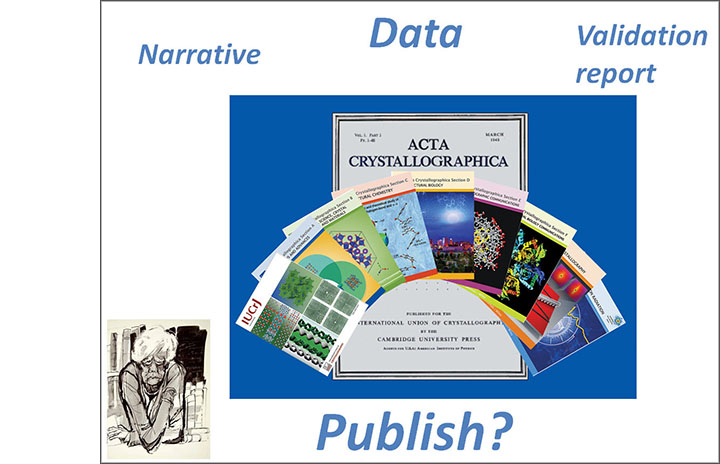 Note
Registration for satellites is already CLOSED!